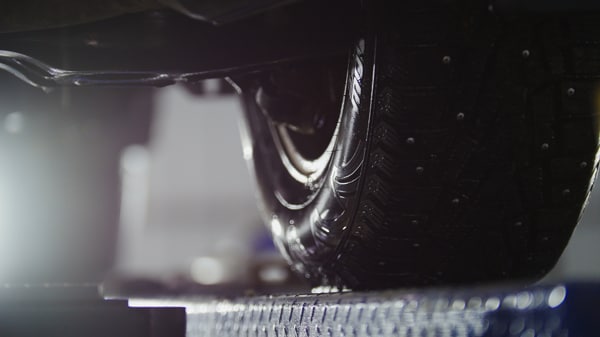 Quick and Easy Alignment Service in East Stroudsburg, PA
It comes with the territory of vehicle ownership, but it's something that no driver looks forward to - auto maintenance. Even simple services like tire rotation, oil changes, and alignment are all too often put off until they lead to bigger problems. Why? Because drivers would rather take their chances than deal with the cost and the inconvenience of taking their car to the shop.
It doesn't have to be that way. When you know where to go for fast, quality, budget-friendly service done by experts, you can get those services taken care of and get right back to your busy day. That place? Halterman's Mitsubishi.
When it's time for alignment service, you won't find a better place to get your car back on track. Our team of experienced technicians will inspect your car to see if your suspension system has been nudged out of proper alignment. If it has, they will perform a simple alignment service on the spot, without taking a toll on your wallet or your plans for the day!
At our full-service auto center serving East Stroudsburg and surrounding communities, we care about your safety and the well-being of your vehicle. That's why so many of your local friends and neighbors trust us for all of their automotive needs. One visit here for tire alignment or any other service your car needs, and you're sure to become another loyal customer.
How Do You Know If Your Car Needs Alignment Service?
It's not always easy to know if it's time for alignment. Your car might not show obvious signs or symptoms, and if you do spot the subtle ones, such as uneven tread wear or your vehicle's tendency to pull to the side, you could easily miss what that means.
That's why it's best to have your vehicle inspected for alignment by the professionals at Halterman's Mitsubishi. They can quickly assess your car and let you know if your suspension system has become misaligned. And they know just how to get it back on track.
It's important to have this addressed as soon as you find out there's a problem, as continuing to drive with a misaligned suspension can cause your tires to wear out more quickly and lead to bigger issues down the line.
Schedule Service at Halterman's Mitsubishi
If you're in the habit of ignoring potential automotive problems until they won't be ignored any longer, you should consider changing your ways. Because a small problem with your car can grow and worsen until you have a much more costly and complicated issue on your hands.
Avoid the stress, the financial burden, and the inconvenience of those bigger problems by taking care of simple services like tire alignment quickly and regularly. At Halterman's Mitsubishi, we make auto service so quick and affordable, you'll wonder why you ever procrastinated.
Schedule service today, and make sure you check out our current lineup of service specials that can save you more in addition to our already low service prices. We're standing by to help you get your vehicle back to the top of its game!